It's hard to imagine the world without the kind of mobile communications infrastructure that surrounds us today. Cell phones and satellite phones have carved an indelible place in our lifestyles, developing their markets. However, a cell phone is completely different from a satellite phone. You can talk on the cell phone wherever your service provider has a network. The satellite phone, however, was developed for very different reasons. Satellite phones allow you to talk from anywhere in the world; be it the densest of forests or the most rural countryside. With the world getting smaller and technology reaching new heights of advancements, travel into such remote places had led to the development of the satellite phone communication infrastructure.

News
Smartphones are even smarter when it includes a fitness app for you .With the changing habits and busy schedule of our life, it is nearly impossible to take good care of ourselves, but this can be done with the help of a fitness app. There are many apps related to our health, diet, daily routine, calories to burn etc. select one app which is best suited to you. Some fitness app works as a coach and helps you do your exercise with utmost perfection by describing each and every step of the exercise clearly. These days with many new smartphones the
Some Trending Fitness Apps
1.MyFitnessPal
The first app in this category is the My Fitness app, its basic version is free to download and use while you have to pay for subscribed version which is available with some extra features and it is also compatible with android, iOS and windows smartphones. It will track your eating habits. You can even easily calculate the nutrition and calorie intake by scanning the barcode of the food product or you can also select from company's database as it has the database of over 5 million foods.
2. Jawbone Up
Next app in the category is Jawbone Up, which is also available for free download and it is also compatible with the android, iOS and Windows smartphone. It's sleep tracking requires a compatible fitness tracker. It can track steps you have taken so far, the distance you have travelled till now and also calories that you have burned while doing running or exercises but it requires a compatible Android or iPhone device. It has an awesome feature of smart coaching and it will give you personalized feedback which will keep you motivated towards your goal of the day. You can also create teams to have a competitive environment. It also has activity tracking, mood tracking, food, and drink tracking also. The software also allows you to connect with the third party apps.
3. Fitbit
Fitbit is the next app in this category and available for free download for Android, iOS, and Windows phone users and it also offers a paid membership for premium customers. It will allow tracking your daily activities through your smartphone. It will save the information in log form for food intake, water consumption, and daily weight. This app also allows you to compete with others. It is a brand name in the world of fitness tracking. Competing feature keep you motivated for the daily fitness track and forces you to walk an extra mile today.
4. Strava
Strava is the next app in this category, with free basic level and paid subscribed version also for premium users which have some extra features also. It is compatible with Android and iOS only while this app is not compatible with the Windows smartphone users. It has a cycling and running log, basically, it's a tracking app and also a fitness community. Strava can easily synchronize with the devices like Tom Tom, the Microsoft Band, Garmin, Timex, Fitbit, Polar and much more.
Nowadays, increase in innovation and technologies, brands such as Xiaomi, Lenovo, Samsung and many other brands launching their mobile devices with high features like Iris scanner, fingerprint scanner, S Pen functionality and many other features makes the device superb.
Here we are discussing the latest feature i.e. S Pen functionality which helps the user to write like a real pen. The S Pen functionality lets the user write any text, draw sketches and his own ideas on the screen using S Pen which is clubbed with a smartphone device. If the user clicks once with S Pen then he will get a blank document or a blank paper, which he can use it to write text and for sketching purpose. The user can use this feature for preparing his presentation, to sign the important documents as well as to draw paintings. The user can use this functionality to draw paintings and to decorate parties as well like birthday parties invitation card, coloring pages, valentine greetings and for many other occasions. Many brands launching their latest smartphone devices use this feature like:
Microsoft Surface Pro 3
Microsoft Surface Pro 3 is a laptop-tablet hybrid device which was released in 2014. This device is very powerful having sturdy build up and has all the features to beat laptop devices.
This device comes with amazing specifications like the large display size of 12-inches, which comes with a resolution of 2160*1440 pixels delivers amazing picture quality. The device comes with amazing features like S Pen functionality and Cortana.
Other accessories like Kickstand, keyboard and type cover which comes with the device makes the device outstanding enough to beat other tablets and laptops.
But the Microsoft Surface Pro 3 comes with a price of 1,01,400INR which is quite high as compared with other devices.
Samsung Galaxy Note 7
Samsung Galaxy Note 7 is an amazing device and is available for pre-order booking. This incredible device is powered with a strong processor, amazing RAM and many more which makes the device powerful enough to run multiple tasks and apps simultaneously without any issues.
The device comes with extra features like S Pen functionality, Iris scanner used for security purpose, and different sensors. Also, the device is IP68 certified, which signifies that the device comes with a waterproof body and can sustain up to 30 min under the water. The device also has a dustproof body. Galaxy Note 7 with such features will give high competition to its competitors.
The gadget has amazing cameras, spacious memory, powerful battery and many other specifications make the device superb. The device comes with a price of 60,000 INR which is also quite high.
The satellite phone global coverage provides voice and data
Go iridium is a network access point Iridium satellite
It provides voice and data connection to the mobile in areas without coverage
Iridium is a satellite network for telephony designed and commissioning originally by Motorola. It has 66 satellites orbiting the Earth providing coverage for voice and data and has half a million customers worldwide, a fairly modest especially compared with customers of conventional mobile telephone number. The company has announced recently it will begin marketing Iridium Go , a portable accessory that let you use the satellite network Iridium from any conventional mobile phone. it works similar to popular points MiFi access that connect to 3G data networks and 4G to provide Internet access to computers and tablets over wifi. in this case, Iridium Go connects to the satellite network while creating a wireless coverage area around which can connect up to five devices simultaneously . So a mobile phone without coverage will work and will link up through the Iridium satellites.
Satellite Phones
Despite the popularity of mobile phones, the signal coverage through which function remains limited. And what is even more global and if it is intended that a mobile useful in remote or sparsely populated areas or when you are in the ocean.When you need to use a mobile phone anywhere in the world without relying on coverage Mobile option often over the use of satellite phones . Unlike mobile telephony, which uses antennas on earth, the satellite phone establishes connections for voice and data through a set of satellites orbiting the earth about 800 km height, providing global coverage. still satellite phones are more expensive than high – end mobile phones. Also the price per minute of communications is higher, although satellite telephony there are no concepts of international calls or roaming or roaming .
"The satellite phone is used almost exclusively in very specific situations "
However, the satellite phone is used almost exclusively in very specific situations where communications are vital. The industry freight by sea, energy or mining, exploration and sports competitions and government use, military and news agencies, are some examples of regular users, although anyone can access the service and use their advantages and capacity.
Limiting data connection
The satellite connection has however some limitations, the most important on the data connection . Iridium was originally designed for voice communications, but has been adapted to make it possible to send text messages (similar to SMS) and to provide data connection. Albeit with a very limited capacity and transfer speeds similar to modems or having data connections in the mid-90s, about 2.4 kbps ,comparatively, a 4G connection ' normalita 'is capable of transferring 40,000 kbps- Iridum although the connection is ensured at any time and place. the purpose of Iridium Go is not to replace or compete with ADSL data connections, fiber, radio or 3G and 4G, but provide reliable data connection for exceptional and emergency situations , providing a connection through which you can send text and email messages when you are in remote locations beyond the reach of other means of communication.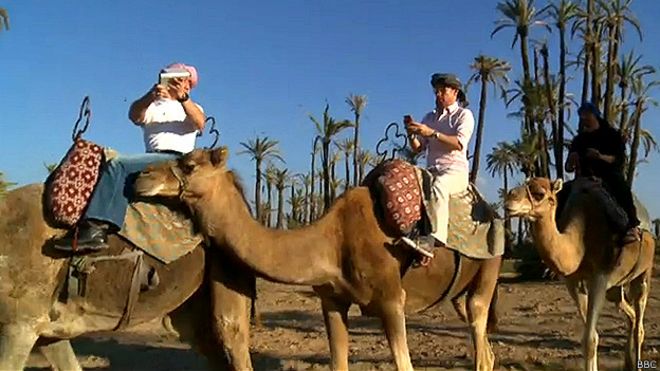 In recent years, satellite technology has enabled communication in remote areas, but often the cost of equipment and call charges were very expensive.
With time and the progress of these costs they have been reduced technology, although not yet accessible to any pocket.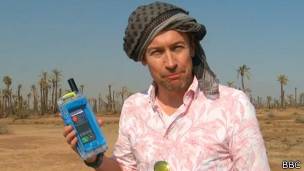 A team of technology enthusiasts BBC was lost in a desert of Morocco to try connecting to the internet for less than US $ 2,250.
Here are three ways to do this in the middle of nowhere: on top of a mountain, in the middle of the ocean or from an uninhabited island.
Although sometimes there to go to exotic places: it would do so from one of many towns not so lost but offline.
A mini satellite antenna for about $ 1,150
The iSavi, Inmarsat, is you probably the world's smallest satellite dish.
It does not work well on the move, so it must be on a firm surface.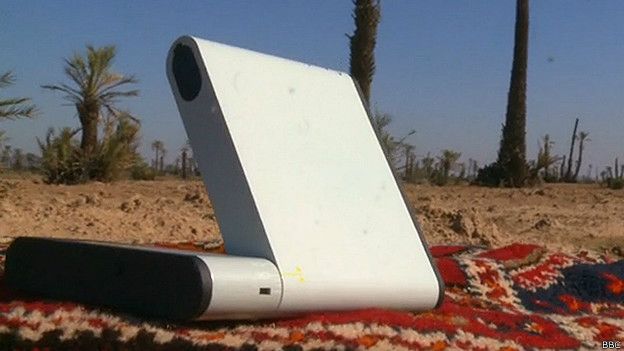 The device connects directly to the Inmarsat satellite network that is just above and so allows you to use the internet through an application on your phone to send text messages and make calls using any smartphone.
You can also create a wireless network that reaches a radius of 30 meters.
According told the BBC Nick Whitehead, a leading satellite communications company Inmarsat, this device offers a data connection 200 to 300 kilobytes, which is not easily pemite relay video but Internet browsing.
Once the device is properly oriented, an application on the phone helps you to establish the satellite connection.
And the cost of this equipment is starting to come down: talk on phone costs about US $ 0.90 per minute.
Connect to the Internet is much more expensive, about US $ 4.6 per megabyte. Per still can be much cheaper than what some phone companies would charge you if you did for roaming in an area with coverage.
A "jacket" for US $ 1,050 satellite
Another option to connect to the Internet in the middle of nowhere is SATcase, a protective sheath becomes "satellite" any smartphone.
It costs about $ 1,050 but saves you having to carry two phones.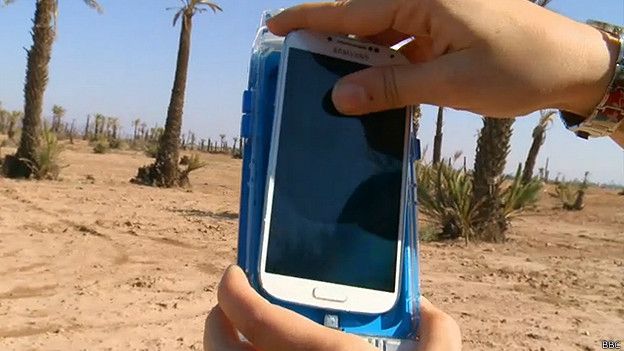 Functioning as a kind of "jacket" on your phone, you still have access to most of your applications, emails, contacts and other paraphernalia.
This "jacket" would allow you, for example, send a photo from the top of Everest.
You can use the SATcase with an annual contract or a prepaid card.
Another advantage of this device is that it can switch between the satellite connection and the telephone, if you're in a place where there is none.
Even without harboring a phone housing itself is useful in an emergency situation, because it has its own battery and features a red emergency button when you press it sends your GPS coordinates to someone who, hopefully, can do something to assist you.
If you hold down sends the message that you're in trouble.
A "traditional" satellite phone
Buy a "traditional" satellite phone, for example an Iridium or Thuraya, around US $ 1,000. Then you have to add the additional costs of having a monthly calling plan. The cost per minute is $ 7.79 for calls to other satellite phones do not.
Thuraya also offers its own satellite, "housing" call SatSleeve for Android and iPhone smartphones.
This housing uses Thuraya satellite connection, which the company covering 140 countries.
practical uses
These technologies can appeal to consumers who spend time in areas without coverage and compensates for them to invest in satellite equipment for safety reasons.
They also generate interest among small NGOs working in remote and disaster areas, because being light equipment can keep channels open at the same time allow worker mobility communication.
In any case, you whether you come for security or to update your status on Facebook, the cost can connect directly to satellites is entering gradually into the orbit of the consumer.
The company Inmarsat launched the country's first mobile satellite communication system, BGAN (Broadband Global Network, for its acronym in English), which provides telephone communication and Web access from laptops and other devices.
In this way, users can access from places where even hit the electricity supply to all Internet services (Web, email, messaging, access to corporate networks, video conferencing, streaming video and audio, etc.) and additionally use the service as a satellite phone or Internet phone.
Until a few weeks ago, have access to high speed internet it was not possible in certain parts of the country: in remote rural areas, which do not reach telephone networks and much less cable television, it was almost impossible to connect to the Net .
The only alternatives were fixed and mobile satellite connection through data plans of mobile operators. But the first does not offer mobility requiring some companies (media, oil exploration, humanitarian brigades, etc.), while access via cell phone that is offered in Colombia reaches maximum of 120 kilobits per second (Kbps) speeds.
The BGAN terminals (equivalent to the modems on other connections) have a maximum size similar to a laptop. These small devices can be connected to laptops, handheld computers, smart phones and cell via an Ethernet cable or wirelessly via Wi-Fi or Bluetooth.
Aurelio Gómez, CEO of Inmarsat in Latin America, said ?? BGAN offers Internet services in areas where other services are not present. The terminals can be recharged in areas without electricity, using solar panels or battery of a vehicle ??.
Internet signal or telephony reaches 85 percent of the territory of the planet and 98 percent of the world population, through I-4 satellites Inmarsat, and now reaches speeds up to 492 Kbps, with guaranteed rates 256Kbps.
The service is aimed at companies ?? not home users, for their high costs ??, and according to Aurelio Gómez major markets are the media (its customers include the BBC and CNN), petroleum exploration companies , mining, construction and military and police forces. In Colombia, Inmarsat already has customers in almost all these sectors.
The service charge for consumption. For example, one minute of satellite telephone communication worth about 1,800 pesos (is billed in dollars), the videoconferencing service has a value of 20,000 to 40,000 pesos according to the required quality of service and price of Internet access starts at 10,000 pesos per megabyte (MB) transferred.